Fishing in Black Desert is used to obtain fish for cooking or simply to gain money.
To fish, you must first obtain a Fishing Pole. You can get one from a fishing merchant, through a quest reward, or through creating one yourself with a Tool Workshop housing unit.
You can then go to any ocean, river or lake - as long as the water's not too shallow.
Fish can be depleted from a region due to popularity, so it's recommended to switch fishing areas from time to time.
You can open the world map anytime to check fishing conditions around the world.
AFK Fishing
The fishing system also allows you to be abscent while fishing, note that AFK fishing does take a lot longer than normal fishing.
Once something has bitten it will take 3 minutes for your character to start auto-fishing, mind that it takes 3-4 minutes before a fish bites.
In comparison - fishing controlled by the player takes up to 4 minutes, including the fishing and catching.
This means while the auto-fishing player is still waiting for a fish to bite - the player that fishes manually will have already caught a fish.
We only recommend AFK fishing when you're going to be abscent for a long period of time or planning to go to sleep.
AFK fishing does have it's advantages. Something you will notice while fishing yourself is the amount of trash caught during the process.
As you're auto-fishing you'll be able to automatically throw it away with the "throw away trash when auto-fishing" -option displayed at the top of the screen once the Fishing Rod has been thrown into the water, meaning that non-fish (broken hook, shoes, worn leather) will be removed from your inventory.
Locations
North-east of the beginner's town Velia you'll find the island Illya, which can be reached with the boat that sails from Velia approximately every 20 minutes or with your own boat that can be bought at the marketplace or made by yourself.
We've been testing the spot out ourselves and have had some great catches going from an average fish worth of 6.000 silver to a special fish that was worth up to 20.000 silver. The guild definetely agrees on the Illya Island being a great place to fish.
To sell the fish caught on Illya we recommend trading it to the local Trade Manager, as far as we have experienced the local Trade Manager gives the highest amount of money out of all the nearby Trade Managers from Balenos and Serendia.
Get to know more about Trading HERE.
Once you're more experienced in fishing or generally want to try out something more advanced you can try out whale or crocodile hunting.
Marked on this map are Whale locations for Hunting. More about hunting is available HERE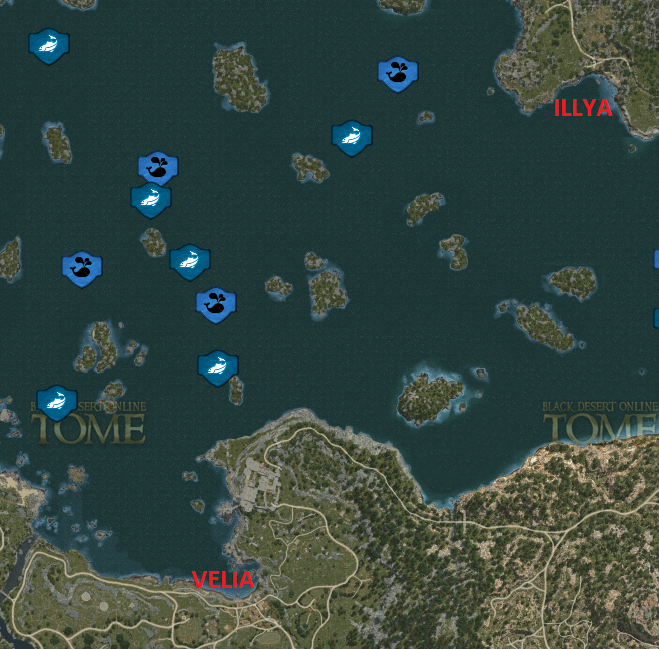 Any questions? Ask them below or let us know if you have found any good fishing spots!