Alchemy is an important profession/life skill in Black Desert. It is used to create MP potions, elixirs, crystal sockets, alchemy stones, etc.
High Alchemy skill can be quite profitable and is a great way to make money whilst AFK. All you really need to start, is a Alchemical Tool and a house to put it in. A basic Alchemical Tool can be bought from an Alchemist for 5,000 silver, crafted using a Tool Workshop or bought from the Auction house.
After you have acquired a alchemy tool and placed it in your house, you can interact with it by pressing the R button to open the alchemy window. Here you can select ingredients or a recipe from the list highlighted in blue. The recipe list will not tell you the ingredients for items you have not prepared before. When you have
When you prepare some items (such as elixirs), you have a chance of earning a higher item grade. Higher item grades will give you a higher food buff.
There are 5 item grades (lowest to highest):
White
Green
Blue
Yellow
Orange
All items in our Alchemy recipes list are green grade items with green grade buff stats. The highest grade you can currently craft with Alchemy is blue grade.
You may also occasionally receive "trash" items, which can be exchanged for other alchemy ingredients, contribution EXP, alchemy EXP, or silver.
~Screenshots in this guide are for Cooking but the process is the same~
~HOW TO MASS PRODUCE~
To mass produce a recipe, you simply go to your Alchemical Tool in your house and press "R" to use it. Right-click your ingredients and make sure you enter ingredients for 1 result. (Entering more will consume all of your ingredients and only give you 1 result.
Next click "Produce continuously".
Click "Yes" then enter the amount you wish to make. You can click "Maximum quantity" or press "F" to create as many as possible. Then click "OK" and you will automatically make as many as you have ingredients or energy for.
~IMPERIAL ALCHEMY~
Spoiler
~TIPS & MAKING MONEY~
Tips for leveling your Alchemy:
Alchemy quests are great to start leveling your profession. Your Black Spirit can help you find them at any time by clicking "Guide".
Some recipes will give you "trash" items. These can be exchanged for alchemy experience.
Using the Alchemy Merchant costume will decrease the time it takes to craft. Enchanting this costume will also increase the amount of profession experience you earn.
Recipes that require more processing will give you more profession experience. For example: crafting "Beer" for workers requires 3 items that can be bought from the shop and 1 item that doesn't require any preparation. You'll find that cooking something like "Cheese Pie" gives more experience because you have to create the dough, cheese and butter beforehand.
Tips for making money:
At first you'll find it very hard to make a profit. You'll also need lots of inventory space, weight, contribution and energy. It is however worthwhile at the higher ranks and can be extremely profitable.
Alchemy stones are great to craft because they are always in demand and are probably the best part of leveling this profession.
Elixirs are also great to craft because they are often used for Guild wars and will sell quickly.
Once you get to Masters level the best package to create is the "Elixir of Hwaggeumson (Demihuman hunting)" package.
~ALCHEMY STONES~
You can equip one Alchemy Stone in your equipment slot, to give you a buff which will last for 3 minutes (Life Alchemy Stones last 10 minutes). It can also be reused automatically every 3 minutes, giving you a permanent buff.
There are 3 types of Alchemy Stones
Destruction – Buff: attack, accuracy, ignore resistances, attack speed, cast speed
Protection – Buff: damage reduction, evasion, maximum health, resistances
Life – Buff: reduced cooking/alchemy craft time, processing success rate, weight limit increase, gathering, fishing, gathering drop rate
HOW TO CREATE AN ALCHEMY STONE
To create an Alchemy Stone you will need Alchemy rank: Experienced Lv 1 or higher.
The recipe to create an Alchemy Stone is:
Shining Powder x9, Blood of the Sinner x6, Clear Liquid Reagent x10, Pure Powdered Reagent x10, Powder of Time x7
Place the ingredients into your Alchemist Tool.
You won't create an Alchemy Stone every time, sometimes you may fail and get a broken Alchemy Stone which can be sold to a merchant for 5,000 silver. Higher Alchemy rank will increase your chances of being successful.
LEVELING & GRADES/RARITY
You can level your Alchemy Stone to increase the level, grade/rarity, or both. In turn increasing the buff stats.
Item grade/rarity (lowest to highest):
White
Green
Blue
Yellow
Orange
Below is a table of each level and the buffs it has.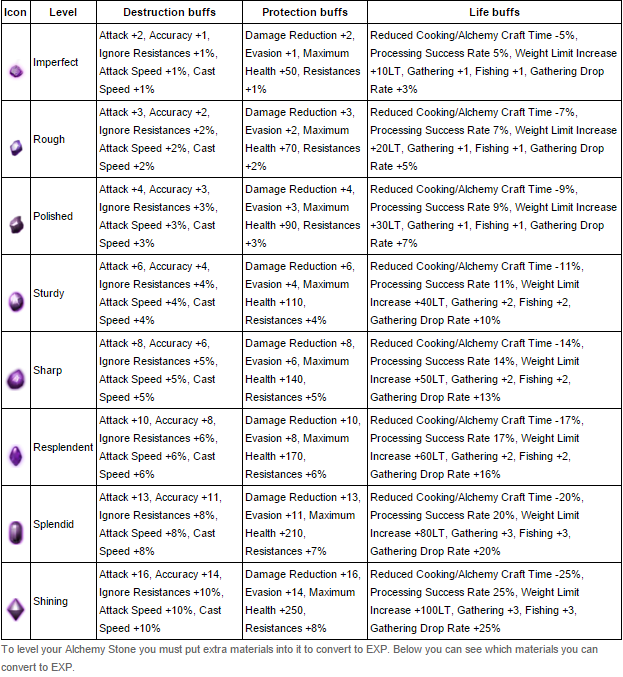 Destruction – Ores (low EXP), Jewels (medium EXP), Processed Ore/Jewels (high EXP)
Protection – Wood (low EXP), Sap (medium EXP), Processed Wood/Sap (high EXP)
Life – Herbs (low EXP), Grains (medium EXP), Crops (high EXP)
Open your inventory then click the Alchemy Stone tab to open the menu. You then need to select the Grinding option and put the material in the top slot and your Alchemy Stone in the bottom slot. Next press "Grinding".
When your Alchemy Stone EXP is between 80-150% you can attempt to level your stone (higher EXP has a higher chance to be successful). Select the Growth tab in your Alchemy Stone menu, place a Blackstone (weapon) in the top slot and your stone in the bottom slot. Next press "Growth".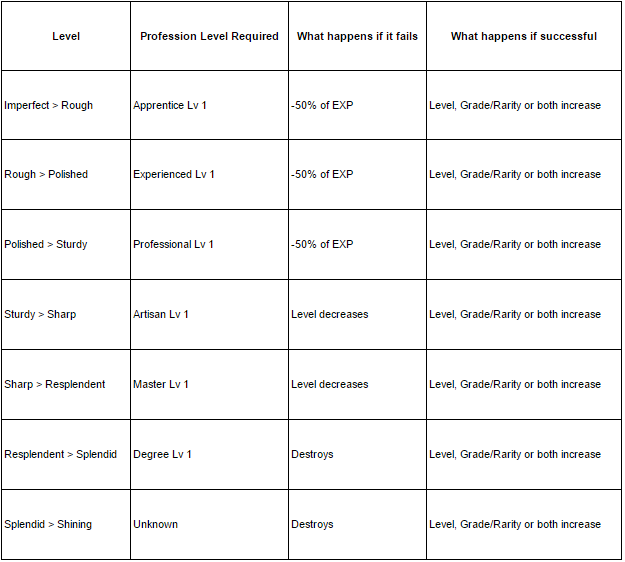 REPAIRING DURABILITY
As you use your Alchemy Stone, the durability will decrease. You can repair Alchemy Stones using the following materials:
Repairs 1 durability
Clear Liquid Reagent
Pure Powdered Reagent
Repairs 4 durability
Blood of the Clown
Blood of the Sinner
Blood Sage
Blood of the Tyrant
Blood of the Phoenix
Repairs 10 durability
Oil of Regeneration
Oil of Fortitude
Oil of Depravity
Oil of Placid
Oil of Storm
To repair the durability again open your inventory then go to the Alchemy Stone menu by clicking the tab at the bottom. Click the Recharge tab at the top of the menu and add the materials in the top slot and the stone in the bottom slot. Next click "Recharge".
Source: http://blackdesertfoundry.com/